PRESENTERS



Tetsuo Kogawa
http://anarchy.k2.tku.ac.jp/
Tetsuo Kogawa's interests range over a variety of disciplines and critical approaches. After studying philosophy at Sophia and Waseda universities, he taught at Wako University for 17 years. He is currently Professor of Communication Studies at Tokyo Keizai University's Department of Communications. Kogawa introduced free radio to Japan, and is widely known for his blend of criticism, performance and activism. He has written over 30 books on media culture, film, the city and urban space, and micro politics. Most recently he has combined the experimental and pirate aesthetics of the Mini-FM movement with internet streamed media.





Sean Cubitt
http://shiva.smst.waikato.ac.nz/~seanc
Sean Cubitt is Professor of Screen and Media Studies at the University of Waikato, New Zealand. Previously Professor of Media Arts at Liverpool John Moores University, he is the author of Timeshift: On Video Culture (Comedia/Routledge, 1991), Videography: Video Media as Art and Culture (Macmillans/St Martins Press, 1993), Digital Aesthetics (Theory, Culture and Society/Sage, 1998),Simulation and Social Theory (Theory, Culture and Society/ Sage, 2001), The Cinema Effect (MIT Press, 2004) and EcoMedia (Rodopi, 2005); and coeditor of Aliens R Us: Postcolonial Science Fiction with Ziauddin Sardar (Pluto Press 2002) and The Third Text Reader with Rasheed Araeen and Ziauddin Sardar (Athlone/Continuum, 2002). He is the author of over 300 articles, chapters, papers and catalogue essays on contemporary arts, culture and media. A member of the editorial boards of Screen, Third Text, The International Journal of Cultural Studies, Futures, Time and Society, Journal of Visual Communication, Leonardo Digital Reviews, Iowa Web Review, Cultural Politics, fibreculture journal, International Journal of Cultural Politics, Public and Vectors, he has lectured and taught on four continents, and his work has been published in Hebrew, Arabic, Korean and Japanese as well as several European languages in publications from Latin and North America, Europe, Asia and Oceania. He has also curated video and new media exhibitions and authored videos, courseware and web poetry. He is currently researching a book on media history and preparing to launch a book list on the history and philosophy of media with Berg and New York University Press.



Steven Kovats
Programs Developer, V2, Rotterdam, Netherlands
Canadian born architect and media researcher Stephen Kovats spent a decade upon German unification designing and establishing media art and culture related programs at the Bauhaus Dessau Foundation. His Studio Electronic Media Interpretation hosted numerous international projects, symposia and exhibitions exploring the relationships between media space, political culture and electronic art.

In 2000 he published MEDIA · REVOLUTION which wrapped up the "Ostranenie International Electronic Media Forum" series focusing on the role played by media art and culture upon the societal transformation process in Central and Eastern Europe. During this period he founded several media culture oriented exchange and network programs including Archi-Tonomy, EMARE, ECX and the current Bauhauskolleg, a multidisciplinary post graduate program for alternative urban design. Thereafter, based in New York, he developed work and communications based strategies for mobile media and urban reconstruction projects including the initiation of a new urban masterplan for the Ethiopian capital Addis Ababa. Through his telecommunications projects Aurora Universalis and NOM<adic> he has also been active in investigating the spatial structures of terrestrial electromagnetism, communications mobility and technological isolation systems.

Currently Kovats is an international media arts program developer at V2_Institute for the Unstable Media in Rotterdam, through which he recently produced the "Open Systems" conference as well as the "Trans-European Picnic: Media and Art of Accession" event exploring media culture on the edge of the newly expanded European Union.


Graham Smith

Canadian robotics artist and scientist Graham Smith past works include the PEBBLES www.telbotics.com video conferencing robot that links sick children to their schools as well as dozens of telepresence, sumo wrestling, dancing and cybercity robots. http://www.year01.com/issue6/pandora.html He directed the VRAAP (Virtual Reality Artist Access Program) research program http://johannadhondt.com/folio_smith.html at the McLuhan Program in Culture and Technology at the University of Toronto from 1993 to 1995 and holds 5 patents in robotics and telepresence. Currently he is Chief Scientist at his 3rd company, Pre-sence BV www.pre-sence.com and is directing the Echo¹s project www.ict-edu.nl that uses his latest videoconferencing invention, the Presence Projector, to link 8 Dutch and Canadian schools to WWII war veterans in an educational program during April and May of 2005.

Sophea Lerner
Lecturer Media & Sonic Arts, Sibelius Academy, Helsinki, FInland
Sophea Lerner is an Australian sound artist currently based in Helsinki. Her work brings together experience in group devised physical performance with experimental radio and new media art into a collaborative art practice which explores audience interaction through gestural performance and sound.


Tennis
Electronic Musicians, London, UK
http://home.earthlink.net/~efrans/benford/tennis.html
WHO are the hell Tennis?
tennis...
"blowing up massive doses of benign stories....false ambient" flirt magazine

TENNIS is the on-going project of Ben Edwards (Benge) and Doug Benford (si-cut.db). Their last album on Bip Hop, "Furlines" was their clearest statement yet, an amalgam of miniature dub sounds and digitized processing/rhythms (with an additional CD of remixes by Kim Cascone, Oren Ambarchi, Scanner, Electroncat, Tim Hecker, Pimmon and Mikael Stravostrand amongst others). Tennis has been played on London's XFM's Flow Motion, Radio One's One World, & the late John Peel show and other stations across europe and the US, gaining also very good reviews in The Wire, Spex, De:bug, and webzines. Tennis also have compilation tracks for fylkingen (sweden), spa.rk (spain) sub rosa (belgium), the RT-32 astronomical project (latvia) and expanding (uk).

The duo contributed a track also to Sonic Process, an exhibition at the Pompidou centre, Paris & Sonar festival, alongside Coldcut, David Shea, Scanner and Hallucinator. Tennis have toured Europe playing many venues and festivals, inc Ars Electronica, and a sold-out show at Tate Modern, London next to Vladislav Delay, as well as a dates in the US (Tonic, NY & Empty Bottle, Chicago), playing alongside such artists at Taylor Deupree, and To Rococo Rot, jammed on Coldcut's pirate.tv and provided a mix for their Solid Steel radio show. TENNIS recorded a live session for BBC RADIO 3's MIXING IT late 2001.





James Stevens
Founder Consume Wireless Network, London, UK
http://dek.spc.org
James Stevens lives and works in London, and is actively engaged in a range of collaborative projects at SPC utilising WiFi, AV and print mechanisms to further the development of cross cultural, counter commercial initiatives for self provision and evolution of social environments. SPC is orchestrated from a rooftop media lab in Greenwich, London, called DECKSPACE. He is a co-founder of Consume.net, the UKs largest free network advocacy and has championed the use of microwave radio data networks since 2000.


Sally Jane Norman
Director, CultureLab, University of Newcastle
http://www.ncl.ac.uk/niassh/culturelab/
http://www.ncl.ac.uk/niassh/culturelab/sjn.htm
Doctor Norman's research spans performing arts, cultural theory, and technology. She has served many organisations dedicated to transdisciplinary research, including the Daniel Langlois Foundation in Montreal, the "Vida" Artificial Life Competition organised by Telefonica in Madrid, the Scientific Council of the Fine Arts Division of the French Ministry of Culture, and the Hexagram Creation and Research Committee in Montreal.
Sally Jane Norman was born in Aotearoa/ New Zealand in 1953, where she studied music and dance, and earned Bachelor and Master of Arts degrees from the University of Canterbury. She pursued her research in Paris with a Doctorat de 3ème cycle (PhD) at the Institut d'Etudes théâtrales, Université de Paris III (1980), and a Doctorat d'état ès Lettres et Sciences humaines (1990). Parallel to French and English publications including studies for UNESCO and the French Ministry of Culture, Doctor Norman has run live performance workshops with digital tools at the International Institute of Puppetry in Charleville-Mézières, Studio for Electro-Instrumental Music (STEIM) in Amsterdam, Zentrum für Kunst und Medientechnologie (ZKM) in Karlsruhe, and European Festival of Digital Creation in Valenciennes. She organised the 1992 New Images and Museology Conference at the Louvre, and co-organised STEIM's 1998 TOUCH Festival and Symposium in Amsterdam, and IRCAM's Dance and Technology session at the 2003 Resonance Festival. Doctor Norman worked on EU R+D projects at the ZKM from 1996-1998 and became Director of the Angoulême site of the Ecole supérieure de l'image (ESI) in 1999. Nominated Director General of the school's two sites (Angoulême/ Poitiers) in 2001, she launched ESI's pioneering Digital Arts Doctoral Programme.

David Metcalfe
Chief Executive, Forma
http://www.forma.org.uk/
David Metcalfe is the Chief Executive of Forma, one of Europe's leading production agencies for innovative, genre-defying art. Forma generates and tours cross-artform projects internationally. Forma works with a range of artists, including the Japanese musician and artist Ryoji Ikeda, British artist, Gina Czarnecki, Welsh artist Cerith Wyn Evans and German artist Carsten Nikolai. The organisation's projects creates rich dialogues between artists, audiences and places. Its high quality programme of commissions, tours, publications, residencies and educational projects embraces contemporary forms of music, visual art, film, video, new media, theatre, dance and live art, and seeks innovative new ways of engaging with audiences, communities and places.

Sneha Solanki
New media artist and lecturer at University of Newcastle
http://electronicartist.net/solanki/
Sneha Solanki is an artist, web designer and new media developer based in Newcastle-upon-Tyne. She often generates ideas which utilise technology to subvert and comment upon systems of control and automation. An area of particular interest in the future involves the nature of programming human automation as software and semantic networks ­ an area already represented in her piece entitled 'Lovers', a two machine networked installation. One machine is infected with an encrypted stealth virus which infects itself and its connected partner shown through the interface of classic, romantic poetic text which is gradually corrupted into a new hybrid form. which showed her concern with this medium and creating a definable language. Her desire to widen her networks with artists and media through attending national and international masterclasses would be fulfilled should she receive the fellowship along with further research into programming .
When speaking about her practice, she comments: "Most of my work recently has been installation led and automated however it is engaged in ideas concerning connection, networks and working without physical visible borders or boundaries."
In 2000, Sneha worked alongside the artist Kate Rich, and the curator Michelle Hirschorn on the project, "Live Stock", a three day event and radio broadcast, webcast globally and broadcast locally on FM in Stockton-on-tees. The 72 hour programme included contributions from local, national and internationally known writers, poets, musicians, dj's and artists. The broadcast was based at the Arc in Stockton.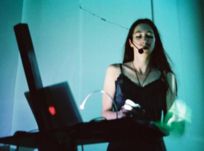 Helen Varley Jamieson
Artist, Wellington, New Zealand
http://www.creative-catalyst.com/
Helen is a theatre and digital media artist, and an internet professional. A diverse career has led to her current experimental work in the use of the internet as a venue for performance, specifically in bringing remote performers together in live theatrical events. She calls this new art form cyberformance. She created her first web page in 1994, and has worked professionally in the internet industry since 1997 doing web site construction and maintenance, web copywriting, consultation and project management.


Vicki Smith
Avatar Body Collision
Vicki will be participating from Tai Poutini (West Coast), where she is currently the Learning Facilitator for an ICT professional development project, using technologies such as LMS, audio and video conferencing to enhance teaching and learning and collapse distances between the eight remote schools that make up the WestNet cluster group.

Vicki was instrumental in developing the worldx project, using UpStage and an LMS as a working environment between a school on the west coast and one in london, and is presently working on developing further projects in the education sector using UpStage. She is interested in exploring the potential for UpStage to engage students in visual arts and music as well as drama, specifically layering sound and images in a live online performance context.

A founding member of Avatar Body Collision, Vicki has presented the company and its work to conferences in New Zealand and overseas. She is a visual artist who has been producing commissioned work and exhibitions for over a decade, and has worked in a design capacity for both print and web media. She has taught in second chance education on IT and the web. She teaches workshops in digital storytelling and trains teachers in digital storytelling methodology.



Zina Kaye
Artist, Sydney, Australia
http://laudanum.net/
Zina Kaye moved from London to Sydney in 1993 to study at the College of Fine Arts, UNSW. In 1996 she graduated with honours and also received a Research & Development Grant from the Australian Network for Art and Technology.

In 1999 Zina won grants from the MEDIA programme of the European Union and the Australia Council for the Arts for Observatine, a remote-controlled surveillance aircraft.

Zina constructs scapes and realities from data, observation and playful interface. She finds inspiration in "big engineering" such as space stations and radio telescopes and her work often reflects on systems that make these things go.




Phil Dadson
Artist, Auckland, New Zealand
http://www.sonicsfromscratch.co.nz/
Phil Dadson is an intermedia/sound artist & founder of New Zealand's most original rhythm/performance group, From Scratch. His work includes sound & intermedia performance, installations, moving & digital image, compositions, graphic scores, experimental musical instruments, sound sculptures and improvisations on his instruments. Recent highlights include ; 2005; Tapping the Pulse, Mediaplex/Wgtn, REV @ Little Black Box, Brisbane; NOWNOW, Sydney. 2004; SoundTracks, solo cd. Polar Projects, Auck/Dunedin/Chch. Night Festival of Sound, Hfg/ZKM Karlsruhe, World Wide Video Festival, Amsterdam. 2003; Vocal Acrobats AK03




Trudy Lane
Trudy Lane works as a digital media designer/producer for the art and museum industries, and as an artist collaboratively producing online works. Both her personal and professional work reflect her interest in experimental cross-breeding between art and education and the perception and interpretation of ideas.

As a part of a small team put together by curator Steve Dietz at the Walker Art Center, Trudy designed and developed online exhibitions, archives and educational projects such as "beyond interface"(1998), "ArtsConnected" (2000) and "sonicFlux" (2001).

Working with the Croatian artist Andreja Kuluncic as a part of a multidisciplinary Zagreb based NGO of philosophers, artists, sociologists, programmers and designers, Trudy created several cyber/physical installations that have been exhibited at festivals and art centers internationally. A selected list is shown below.

"Closed Reality - Embryo" (1998-2000):
Gallery Miroslav Kraljevic (Zagreb), VIPER (Lucerne), European Media Art Festival (Osnabruck), FILE - Electronic Language International Festival (Sao Paulo). Recently collected by the Museum of Modern and Contemporary Art in Rijeka, Croatia.

"Distributive Justice" (2002-4):
Big Torino (Turin), Documenta 11 (Kassel), Walker Art Center (Minneapolis), Whitney Museum of American Art (New York), Istanbul Biennial, Moderna galerija Ljubljana, Artspace Visual Art Center (Sydney), Gallery of Extended Media (Zagreb).

Trudy's involvement with cultural organizations, curators and artists in South Eastern Europe, has also spurred her collaboration on a new socio-cultural contemporary art magazine online named ART-e-FACT, based in Zagreb, Croatia. Trudy is both ART-e-FACT's designer and a member of its editorial board.

Recently returned to New Zealand, Trudy is getting reacquainted with the art and media landscapes of Aotearoa and hopes to be soon dipping her toes into a few of the many tempting local pools of thought.


Caroline McCaw
http://picnic.otago.ac.nz
Caroline is a designer and teacher based at the University of Otago. Amongst many other projects, in 2000 she began the 'Picnic' series of international art gatherings, combining performers and picnicers from around the world via webcast and MUSH.



Ian Clothier
Artist, New Plymouth, New Zealand
http://www.art-themagazine.com/ian
Ian M Clothier is an artist writer based in the South Pacific. He currently lectures at the Western Institute of Technology at Taranaki, New Zealand and is Chair of the Centre for Creative Arts there.

He was a selected artist for ISEA 2004, for Digitalis: Ethno-techno 2004 in Vancouver Canada, and for the Wandering Rocks collaboration of the ReJoyce 2004 Festival in Dublin. In 2003 he participated in the exhibition Nga Waka at the Auckland College of Education and the screening of Digital Stories at the Govett Brewster Art Gallery. In 2002 he exhibited in Wild 2002 at the Tasmanian Museum and Art Gallery, as part of participation in Solar Circuit International New Media Workshop and Residency.

Creative works and research are focused around nonlinearity and cultural hybridity. Media utilised are project dependent and are drawn from interactive media, moving and still image projection and print, web based animation, web site authoring, poetry, text, drawing and painting.

Editor of art-themagazine.com, he has also contributed to rhizome.org, was an invited speaker to the Ninth International Conference on Thinking, has published academic papers in the United Kingdom and New Zealand, and delivered talks to conferences including the Aotearoa Association of Art Educators, Spark 3, the NZ Association of Research in Education Conference and at the Govett-Brewster Art Gallery.


Eu Jin Chua
Writer, Auckland, New Zealand
Eu Jin Chua is a lecturer in the history and theory of art and design at the School of Design, Unitec New Zealand. His interdisciplinary background is in architecture, film studies, art, and literary studies. His most recent curated exhibition was Little Things Take Time at the George Fraser Gallery, University of Auckland. The material for the paper to be presented at this conference is drawn from his postgraduate work on Laurie Anderson. Another version of this paper was presented at the New Media and Technological Cultures conference at CERGE-EI in Prague, and has appeared in Polish translation in the journal Kultura Popularna. His more recent research, which he is beginning to shape into a doctoral thesis, addresses the relationship between cinematic documentary and the aesthetics of science, nature, travel, and modernity.


Paul Woodruffe
Artist, Auckland, New Zealand
Paul Woodruffe is an Auckland based artist and teacher, whose practise is based on painting, small sculpture, and public artworks. Paul has work in most major collections in NZ, and also in Germany, USA, and Australia, and has undertaken public art commissions for Auckland City, Auckland District Health Board, and the French Consulate. Paul's work is currently represented by the Parnell Gallery, Auckland.
For re:mote, Paul will present 'The Listening Post' - a public audio scultpure that will offer an private listening experience in a small park in Mt Eden, Auckland. The sound content of the work will be controlled via the internet - offering an experience that is both remote and intimate.


ORGANISERS

r a d i o q u a l i a
http://www.radioqualia.net

Adam Hyde is currently the Digital Artist in Residence at the University of Waikato. Adam is an artist who works with sound, new technologies, and more traditional forms of broadcast. He also has a long history in New Zealand broadcasting, having managed the radio stations Contact89FM (Hamilton) and 95bFM (Auckland), as well as establishing New Zealand's first community television station, Static TV. Adam left New Zealand in 1998, relocating first to Australia and then to Europe, where he has worked in new media in Amsterdam, London and Riga. Adam now works as a freelance software developer, producer and artist, and has gained an international reputation for his work in these areas.

Honor Harger is currently Consultant Director of the AV Festival, Newcastle UK. Honor's practice includes design, curation and art-making, and she has a particular interest in artistic uses of new technologies. In New Zealand, Honor was active in cultivating sound culture and experimental music. She co-founded sound art collective Relay, worked for Dunedin's Radio One and edited the publication, SpeC. She also worked at Artspace gallery in Auckland, and in 2003 completed two radio documentary commissions for Radio New Zealand. Since leaving New Zealand in 1997, Honor has worked for ANAT, the Australian Network for Art and Technology, and Tate Modern, where she developed many conferences and festivals.


((ethermap
http://www.ethermap.org

Adam Willetts is an artist and musician working on a Masters degree in Intermedia at Elam School of Fine Arts. Adam's practice investigates simple robotics and autonomous machines, exploring relationships and overlaps between humans, technology and the environment. Adam was involved with Christchurch radio station rdu through the late 1990s, helping initiate new shows focused on experimental content. In 2000 Adam received a travel scholarship from the School of Fine Arts, University of Canterbury. He lived in Amsterdam for three years, working in interface design for interactive television, and participating in new media projects, including the Acoustic Space Lab project in Latvia in 2001.

Zita Joyce is a PhD candidate in the department of Film, Television and Media Studies, University of Auckland. Her research explores the radio spectrum, with a special interest in artistic uses of radio technologies, both in traditional and new media. Zita was Programme Director of Christchurch radio station rdu for nearly three years, and developed several radio shows focused on experimental music, the arts, and New Zealand music. Zita has written and edited for print and web, and has organised a wide range of gigs and events. Living in Amsterdam from 2000-2003, Zita worked in telecommunications, and participated in several projects with the RIXC media lab in Latvia.


Designed by Jayne Joyce
Thanks!
Helga Fassonaki, Debbie Malligan, Helen Varley Jamieson, Trudy Lane, Lara Bowen, Netta Norro, Sean Kerr, Pip Walls, Douglas You, Nova Paul, Tiger Beer, Waikato University Department of Screen and Media Studies, Elam School of Fine Arts, Auckland University Department of film, Television and Media Studies, Auckland University of Technology School of Art and Design.